Back to balance after a long weekend!
You probably enjoyed a relaxing and fun-filled long weekend with your family and friends and want to return to balance and feel better. Maybe you over-indulged in some food, drinks, and treats, or maybe you just took some time off from your usual routine. Either way, you might be feeling a bit out of balance and sluggish when you return.
Don't worry, you're not alone, and you don't have to beat yourself up for enjoying life. In fact, occasional breaks and splurges are good for our mental and physical health. They help us recharge, appreciate, and celebrate ourselves and life.
However, I also know that it's important to get back on track and resume our healthy habits as soon as possible. Here are some tips on how to restore your balance after a long weekend.
1. Hydrate. One of the best things you can do for your body is to drink plenty of clean water. Water helps flush out toxins, regulate digestion, boost metabolism, improve skin health and just to feel better.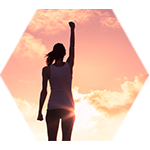 Aim for at least half your weight in ounces of water daily, and add some lemon, cucumber, or mint for extra flavor and benefits. Maybe add a pinch of sea salt or electrolytes to your clean water to increase absorption at the cellular level.
2. Eat clean and organic. After indulging in rich and processed foods, your body might be craving some fresh and wholesome foods. Try to eat more low sugar fruits, vegetables, lean proteins, nuts, and seeds. These foods will provide you with vitamins, minerals, antioxidants, fiber, and healthy fats that will nourish your body and make you feel more energized and satisfied.
3. Move more and exercise is another great way to get back in balance after a long weekend. Exercise helps burn calories, improve blood circulation, release endorphins, and reduce stress. You don't have to do anything too intense or complicated. Just find an activity that you enjoy and that suits your fitness level. It could be walking, jogging, biking, swimming, yoga, dancing, or anything else that gets your heart rate up and your muscles working.
4. Sleep well. Getting enough sleep is essential for your overall health and well-being. Sleep helps your body recover, repair, and rejuvenate. It also helps regulate your hormones, appetite, mood, and cognitive functions and circadian rhythms. Try to get at least 7-8 hours of quality sleep every night, and avoid caffeine, alcohol, screens, and other distractions before bed.
5. Be gentle with yourself, remember to be kind and compassionate with yourself. Don't let guilt or shame ruin your mood or motivation. You're not perfect, and you don't have to be. You're human, and you deserve to enjoy life. Just focus on doing your best every day and celebrate your progress along the way. You control you!
I hope these tips help you get back to balance after a long weekend. Remember that balance is not something that you achieve once and for all. It's something that you strive for every day by making conscious choices that support your health and happiness. You get to make the decisions every day that can make your life better!
For physician line products that can help you get back to normal please visit our on-line nutrition store.