We are an Integrative, Holistic and Naturopathic Medical Practice that focuses on Metabolic Terrain Cancer Support and Integrative Oncology with formally trained and experienced Physicians. There are offices in Atlanta, Georgia and Austin, Texas as well as we offer virtual consultations.
Our approach brings together Metabolic Terrain Based Cancer Support and Integrative Oncology to offer the best combination for your individual needs. Integrative oncology aims to optimize patients' quality of life, reduce side effects, and improve clinical outcomes. 
Focuses on the internal terrain of your body as well as how the body interacts with the environment around it.
A Root Cause oriented approach helps the body heal the core problems instead of just focusing on the symptoms.
Understanding every patient's Terrain and bio-individuality is critical to determining a patient's treatment options.
Our methodology is based on testing and assessing each patient to address their specific root cause health issues that led to their cancer diagnosis.
We are focused on Evidence-based practices from different traditions to support patients' health and well-being.
We consider Genetics, Epigenetics and Nutrigenomics as part of the body's terrain as well as mitochondrial function.
We create a highly individualized and thorough Plan of Health that considers your details and options including conventional and Integrative Care.
We can be involved at any stage of your Cancer journey.  Some patients have had or are engaged in standard treatments like Chemotherapy, Radiation or Surgery, while others, are interested in a purely holistic and natural approach to Cancer Support. Our doctors will discuss options and help you understand the details so you can make the best decision moving forward. We offer a significant number of holistic options that may assist your body as you move through your journey.
Integrative Oncology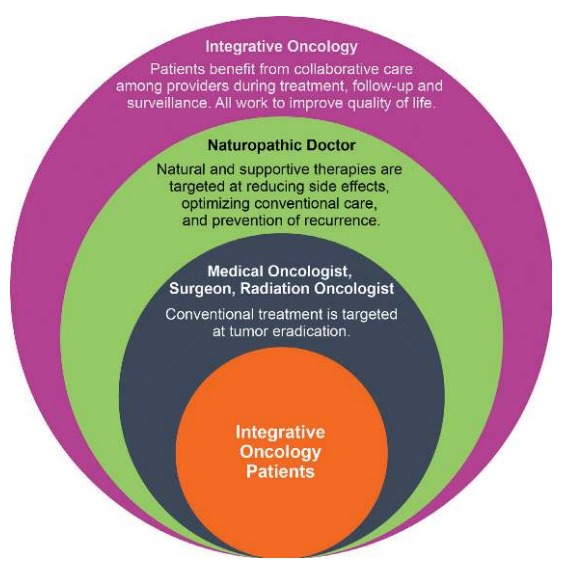 HOW WE HELP
Naturopathic Doctors (NDs or NMDs) trained in Integrative
cancer care provides an important and substantial role in the support of people diagnosed with cancer through survivorship. They provide evidence-informed guidance on safe and effective use of natural and supportive therapies, when combined with conventional treatment.
The Team at SIE Medical gave me a chance to support my body while having Chemotherapy and Radiation to lessen side effects and add other modalities to the equation to help my body win against Cancer.    Dr. Williford has a thorough understanding of how your body works. She helped me heal and change my life.  Thank You!– S.I.E.Medical Patient